Description
Samsung Galaxy Z Fold4 256GB Green:
Folded 6.2" and Unfolded 7.6"
IPX8 water resistance
Qualcomm Snapdragon 8+ Gen 1
50MP triple camera
samsung knox
Foldable Dynamic AMOLED 2X
*Samsung Pay conditions in the description.
Disclaimer: Does not include charger or headphones.
Samsung Galaxy Z Fold4
expand your limits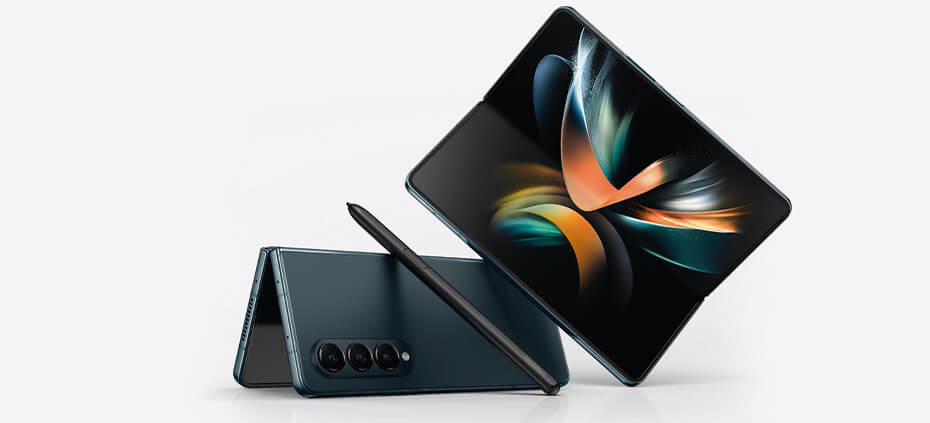 6.2 external screen + 7.6 inch main screen
The Galaxy Fold4 stands out, stands out and pops out. One hand will be enough to do everything you set your mind to: use its 6.2-inch external screen and see for yourself. Although if you prefer to hold it with both hands, you can open it and enjoy its 7.6-inch main screen , making it the ultimate smartphone. And when you need to keep your hands free, just rest it on a surface, find a good angle, and leave it there while you do whatever you wanted.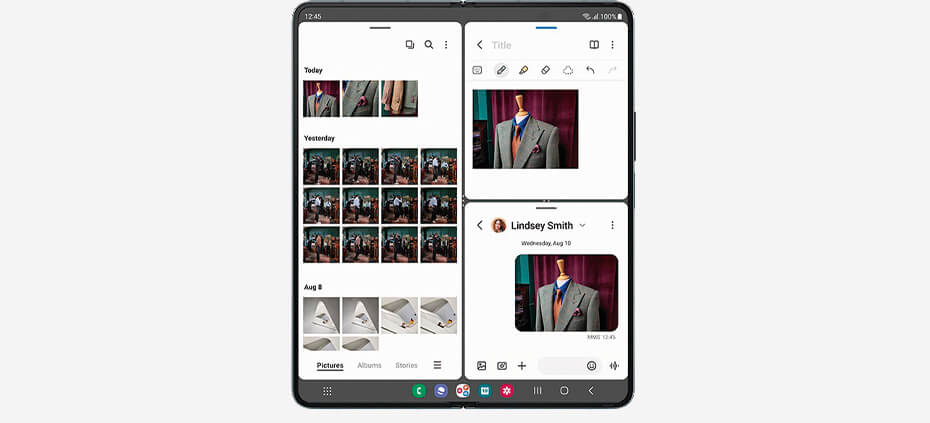 Immersive viewing and immersive audio
Don't let anything come between you and your favorite games. The bezels moved back, and the inner camera even more camouflaged in a 7.6-inch Infinity Flex screen, give you more space to play and avoid any black spots. Also, feel how everything flows quickly and smoothly thanks to the refresh rate of up to 120 Hz, which adapts to the type of content to optimize both your experience and the phone's battery. And expand your big-screen experience with immersive Dolby Atmos audio and stereo speakers.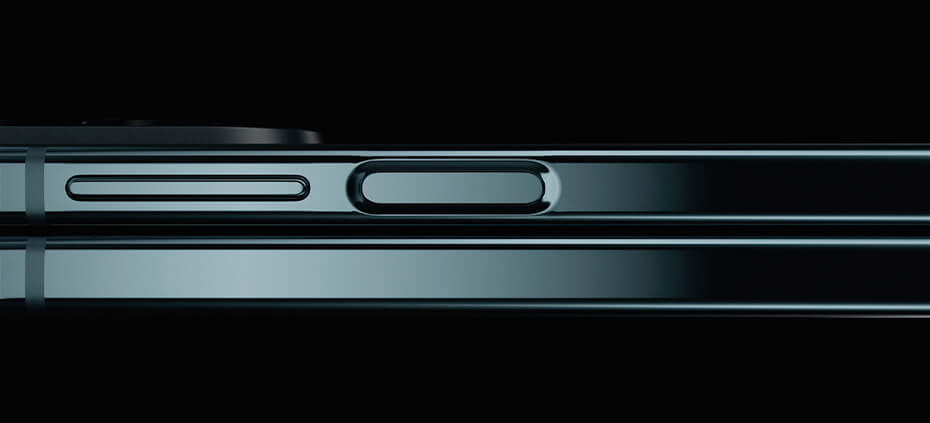 Amazingly strong with splash and drop resistance
From the inside out, Galaxy Z Fold4 is made with materials that are not only impressive, but resistant to any blow. From glass to metal, these are the toughest Samsung Galaxy foldables. For starters, the folding glass on the main screen has never been stronger. Foldable, nimble, and built to last, the Home Display composition stands up to everyday wear and tear. Plus, exclusive Corning® Gorilla® Glass Victus®+ glass makes the cover display and back cover ready to confidently resist scrapes and scratches.
Not to mention, this phone and its hinge are reinforced with Samsung's strongest aluminum frame: Armor Aluminum, which acts like armor, protecting its folds from damage. You shouldn't be afraid of water either, as this is one of the first waterproof foldable smartphones*.
*The Galaxy Z Fold4 has an IPX8 rating. IPX8 certification is based on a submersion test in conditions of 1.5 meters under fresh water for a maximum of 30 minutes. Its use in beaches or swimming pools is not recommended. It is not dust resistant.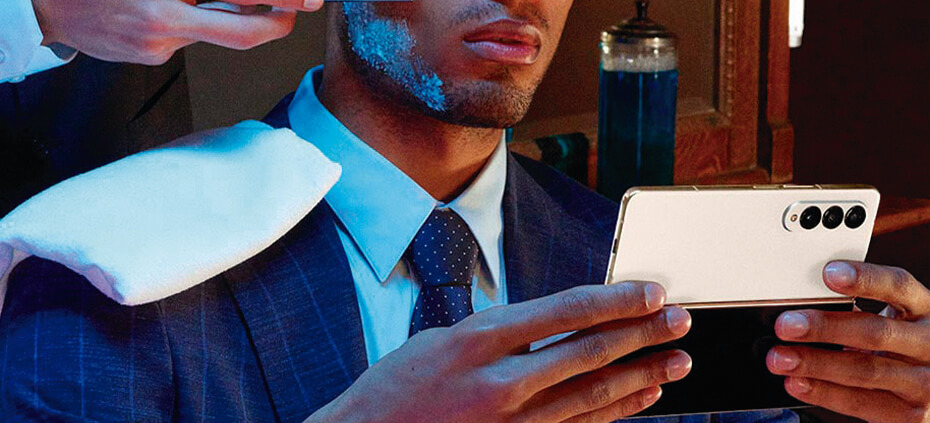 Professional quality camera with high resolution
With the improved rear camera, 30x Space Zoom and Nightography, the Galaxy Fold4 brings pro-level kit to the foldable format for the first time. Use its main screen as a viewfinder to show off your photography skills.
So with the 50 MP wide-angle camera, even quick snapshots become high-resolution masterpieces. Increase depth and sharpness with the "Detail Enhancer" function, which allows you to bring out all the details and leave blur behind.
Still haven't had enough? Well, there are still more essentials of the camera:
Double Preview: Let the subject play creative director. The preview appears on the cover screen, giving you a chance to adjust and look your best before taking the shot.
Capture View: Like a photo monitor in your pocket, Capture View shows you previews of the photos you've just taken, so you can easily check and retake them.
Selfies with the rear camera: Take selfies in high resolution. The cover screen acts as a viewfinder, letting you capture your best side with the 50 MP wide-angle camera.
Expert RAW: Pro Mode jumps to another level when you download Expert RAW. Take full control of your shots and save RAW files directly to your gallery.
AI Editing: Post-production now takes place on your smartphone. Touch up photos with ease using Photo Remaster and remove what you don't want with Object Eraser.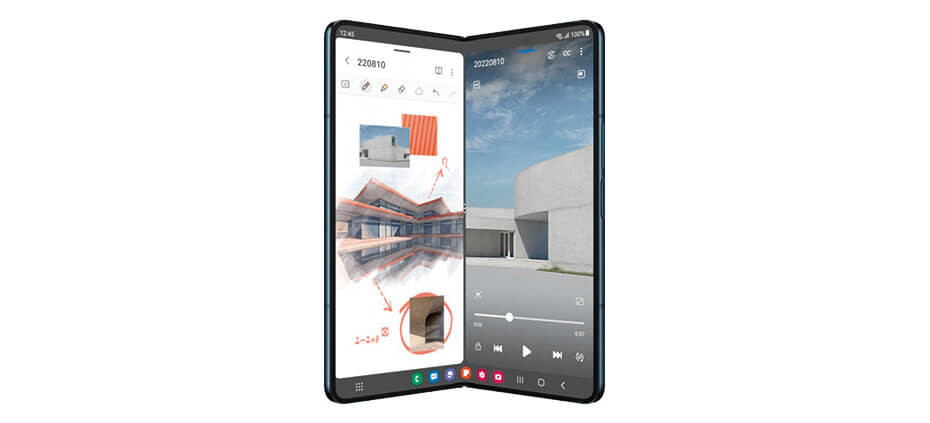 Advanced software to make it easy for you
Samsung Knox is built into your phone's hardware and software and builds layer upon layer of security to keep your data private. In addition, a simple touch on the fingerprint scanner unlocks the main screen quickly and accurately, keeping the phone under fingerprint lock. And don't be too lazy to switch your smartphone: Smart Switch makes the transition between your phone and Galaxy Z Fold4 easy, even if you don't own a Samsung Galaxy yet. In just a few steps, transfer your photos, messages, data and much more.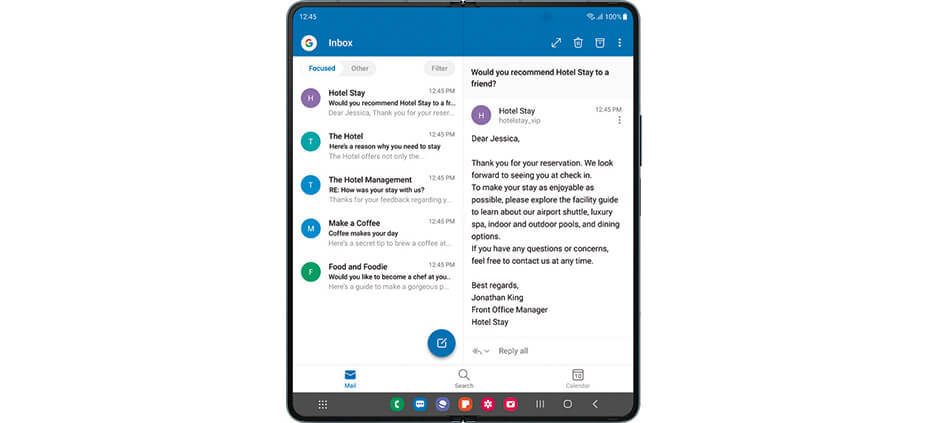 4nm processor and 2 smart batteries
If you want to game without lag or multitask, it's clear: you need a device that doesn't give you problems. And we have it! Galaxy Z Fold4 has a powerful 4nm chip, which also offers 5G connectivity to stream, download and publish content at hyper-fast speeds. Plus, now that you can take photos day and night, you'll need space to keep your artwork close at hand. On the other hand, Galaxy Z Fold4 equips two batteries with a total of 4,400mAh (typical) to keep up with your routine; and when they run out you will have them as new with their fast charge.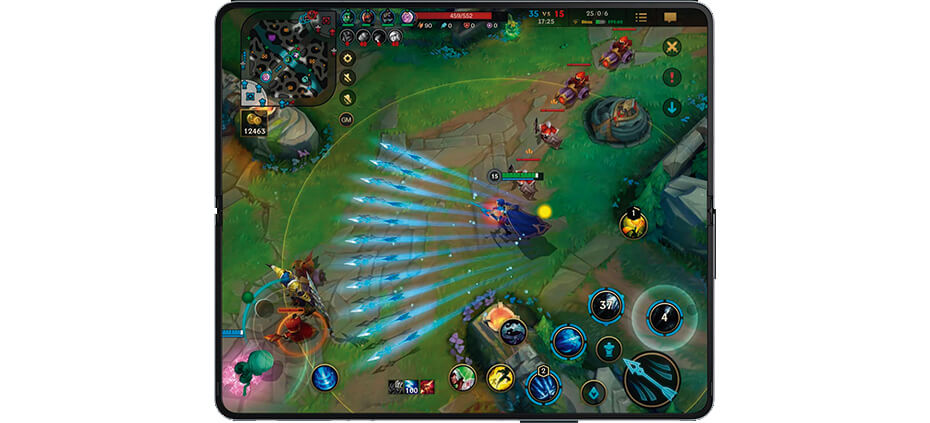 All our Samsung products are European. Due to geographic restrictions by Samsung, the Samsung Pay feature may not be available. Instead, you can use other apps to pay with your device via NFC, like Google Play. Please, for greater security, review this condition before making the purchase.
Disclaimer: Does not include charger or headphones.
Secure Payments
Your payment information is processed securely. We do not store credit card details nor do we have access to your credit card information.